Power plant controller (ppc)
"Dynamic regulation of active, reactive power & voltage"
What is PPC (Power Plant Controller)?
A PPC stands for Solar Power Plant Controller for a power plant and is a specialized system or software that is responsible for monitoring and controlling the operation of the entire solar power plant. It serves as the central control hub for managing various components and processes involved in solar power generation. SuryaLog devices and solutions make a remarkable contribution to the successful integration of solar energy into intelligent power systems and help facilitate a smooth transition to clean energy. Our intelligent solar power plant controller systems maximize the consumption of self-produced green and renewable power.
Plant control and visualization can be monitored using web browser SCADA screens. To analyze plant performance, the SuryaLog power plant controller provides the capability to download both local and remote data. The solar power plant controller PPC is also compatible with internal power meters, PQM meters, or any compatible external meter as per specific requirements.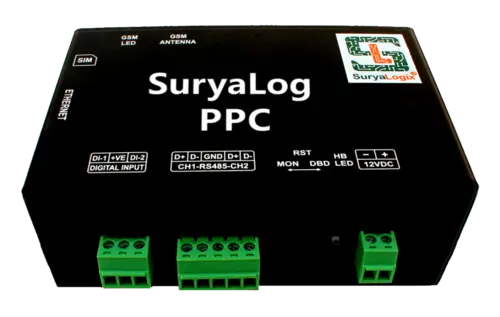 Why choose SuryaLogix Power Plant Controller?
Specifications & Features
SuryaLog Solar Power Plant Controller is compatible with multiple types of inverters, including string inverters and central inverters. It can curtail both active and reactive power generated by the inverter. The power plant controller PPC offers easy configuration settings that can be adjusted based on specific requirements or grid codes. Additionally, the SuryaLog power plant controller can dynamically and statically control power output, and state regulations can be customized to suit the characteristics of each individual plant. A unique feature of the SuryaLog power plant controller is its ability to receive remote settings, auto-updates, and remote updates.