"Advanced IOT Based SCADA With Local & Remote Platform Insures Actionable Data"
What is Solar SCADA(Supervisory Control and Data Acquisition)?
Suryalog Solar SCADA is a reliable and sustainable IoT bases system for solar power plants. It has ground mount products like SCADA and RTU loggers, WMS, PPC, and ground mount Accessories.
Suryalog Solar SCADA is leading with cutting-edge technologies in Ground mount solar power plants. Suryalog has a highly solar-experienced team in Hardware, Software, and Service. Solar SCADA has functionalities for monitoring, management, and maintenance activity. Solar SCADA is working with all types of input, and output ports to collect data from various types of devices in solar.
Suryalog SCADA is compatible with All types of communication systems it works with wired as well as wireless solutions over a long distance.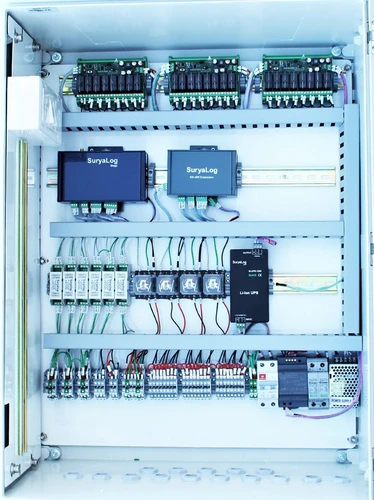 Why choose SuryaLogix SCADA Controller?
Specifications & Features
Solar SCADA is compatible with all types of Inverter, MFM, Sensors, and other Modbus devices. Solar SCADA has an in-built feature to transfer data on the Suryalog cloud as well as on third-party servers using various data transfer methods like Rest API, FTP, MQTT, etc. The Live and historical data is stored locally as well as remotely. The user can monitor the whole ground mount plant on a portal with featured and customizable screens. The local and remote monitoring has a facility to monitor the plant from string level to substation level in combined as well as separate views. The emergency Alerts and error system is inbuilt with a customized format.