"Ground Mount | Rooftop | Hybrid | Off-Grid | Water Pump"
What is (CMS for Solar)Central Monitoring System for Solar Plants?
A central management system/ CMS for solar refers to a software-based platform that enables centralized monitoring, control, and management of multiple solar power installations or assets from a single interface. It provides comprehensive visibility into the performance, status, and analytics of solar power systems, allowing operators to optimize energy production, detect issues, and streamline maintenance activities.
The CMS for solar collects real-time data from various sources, including solar inverters, string monitoring systems, weather stations, and energy meters. It aggregates this data to provide a unified view of the entire solar fleet, enabling operators to monitor the performance, energy generation, and environmental conditions at each installation. The CMS offers visualizations, dashboards, and reports that present the collected data in a user-friendly manner. This allows operators to easily analyze key performance indicators, historical trends, and operational insights to make informed decisions and identify areas for improvement.
The central monitoring system for solar includes an alarm and event management system that triggers notifications or alerts for abnormal conditions or faults detected within the solar installations. This facilitates proactive maintenance and helps minimize downtime. The central monitoring system/ CMS for Solar allows operators to remotely control and configure the settings of individual solar installations or specific components such as inverters or trackers. It provides the flexibility to adjust operating parameters, update firmware, or perform troubleshooting tasks without physically accessing each site.
Through data analysis and advanced algorithms, the CMS for solar identifies inefficiencies, underperforming assets, or potential improvements across the solar fleet. It helps operators optimize energy production, reduce downtime, and enhance overall system performance. A robust CMS allows integration with various hardware and software systems commonly found in solar installations. This includes compatibility with different inverter models, monitoring devices, communication protocols, and data analytics tools. It should also support scalability, accommodating the addition of new solar installations or expanding the existing fleet seamlessly.
The implementation of a central management system typically involves connecting the individual solar assets to the CMS through data loggers, communication protocols (such as Modbus or TCP/IP), and secure networks. Customizations can be made to tailor the CMS for solar to specific requirements, and regular updates ensure compatibility with evolving technologies and industry standards.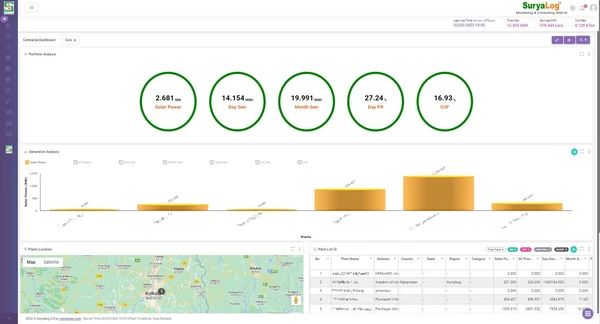 Portfolio-level Management
All Parameters & Features on a Single Screen
Updated Generation & Performance Data
Day Generation, Month Generation, Performance Ratio (PR), Solar Power Plant Status, Source Data, Plant Error, and status, CO2 saving, Weather Status, etc.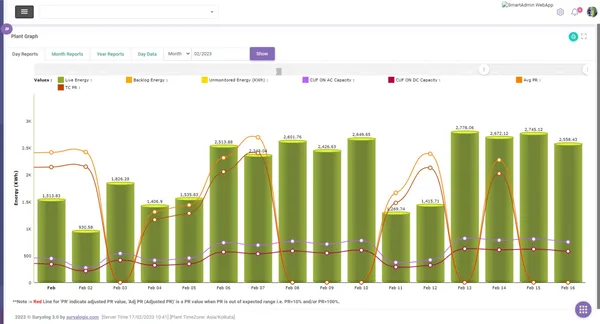 Graphical view for the plant, Inverter, Wing Source & Weather
Graphical View from the day the Plant is installed
Downloadable in PNG & PDF format
Backlog, Monitor & Live Data with PRN / COF indication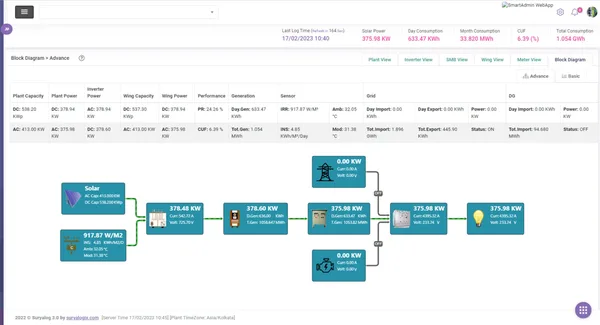 Instantaneous Monitoring from Sensors to load
Site-specific Block Diagram Configuration
Animated View with statuses Inverter SMB & Indicating faults
Advanced as well as basic Block Diagrams are available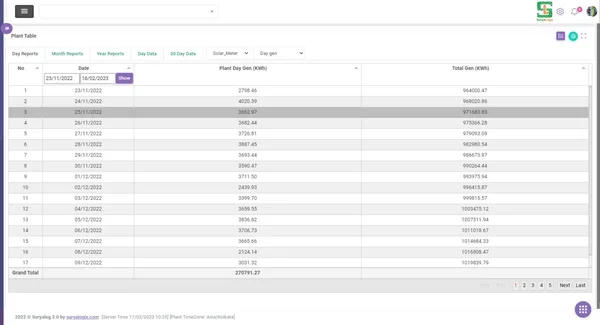 Tabular view for the plant, inverter, wing source & weather
Tabular view from the day the plant is installed
Downlodable in excel & csv format
User-friendly view for analysis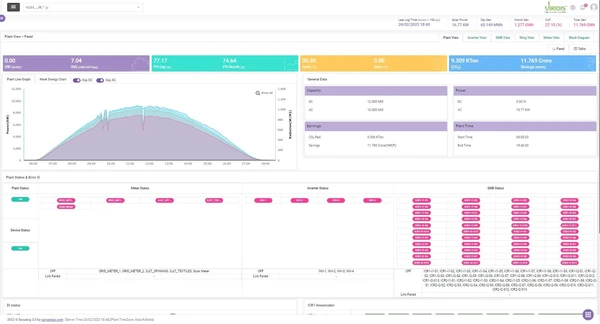 Site-specific instantaneous data
Live inverter, STB, source monitoring
Important widgets like total generation, day generation, month generation
last 7 days generation & expected generation graph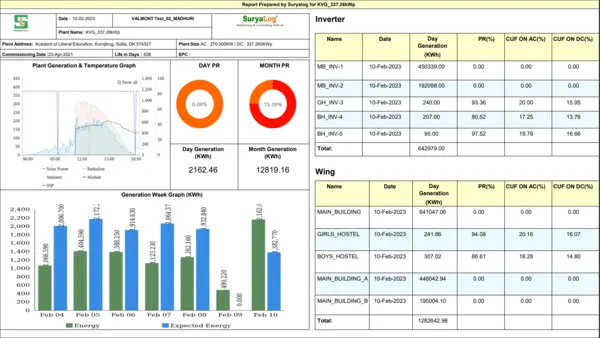 JMR Report Creation
Committed Report for comparison with Actual, Budget & PV syst data
Flexible Configuration & Settable Pages
Customized Reports through Emails as per the Requirement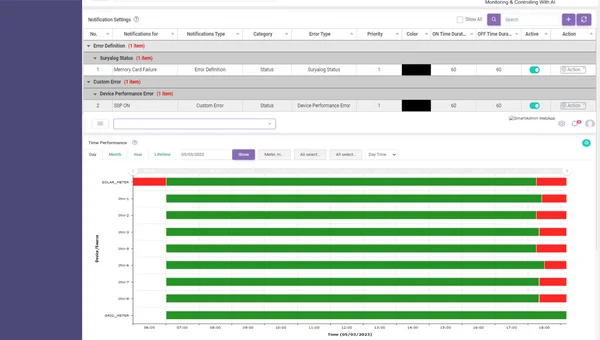 Notification & Time Performance
Customized, PM & Panel Cleaning Schedules
Performance & Comparative based Errors & Notifications
Track the performance of Solar Remotely
Alerts through Emails & Messages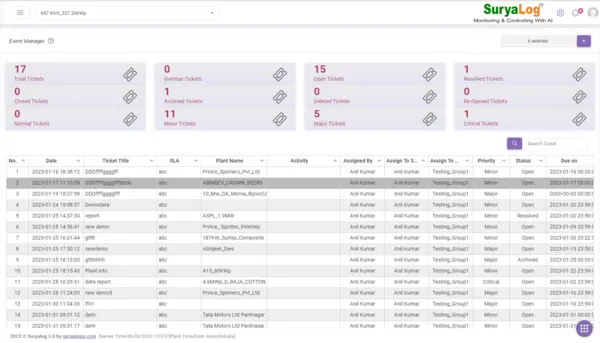 Reducing Manual Work and Automating time-Consuming Tasks
Facilitate project, O & M  spares Management
Analytical Data and Reporting
Advanced Computing Systems with Cutting-Edge Technology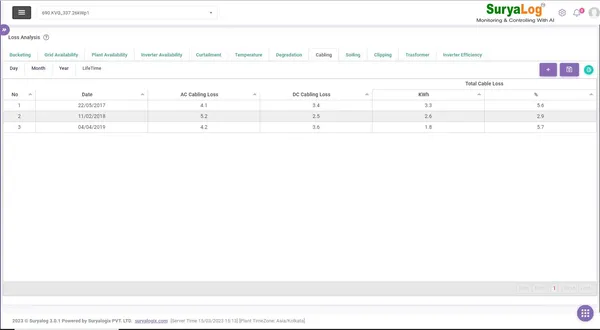 Data for Soiling Losses, Clipping Losses, Inverter Efficiency Losses, Temperature Losses, etc.
Loss analysis to meet Expected Generation
Analyzing the performance of PV Systems through various Curtailment Losses
Total Energy Losses are estimated
Loss Analysis – Day-wise, Monthly & Yearly Data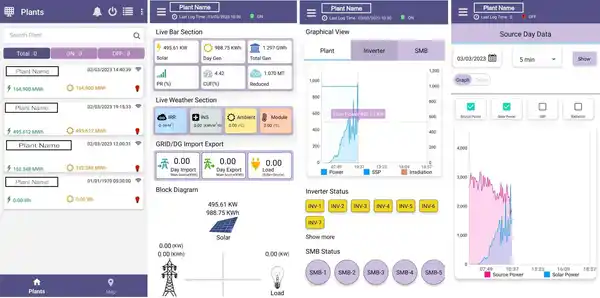 Plant's Daytime Generation and Solar Power On a Central Screen.

Plant Location on the Map Screen.

Live Bar Section, Live Weather Section, GRID/DG import and export, Inverter Status, & SMB status are all represented graphically on a Dashboard Screen.

On a Historical Screen, we show the Plant, Inverter, SMB, Wing, Source, and Weather Reports.
Specifications & Features
MPPT & String View
Current, Voltage, Power & Temperature
Instances, Graphs & Charts
Last log, Start/End, Up/ Down, Block Diagram, Tabular, Bar
Generation
Total Generation, Day/Week/Month/Year Generation
Deemed & Committed Gen
Deemed Calculations, PV System Comparison – Actual & Expected
Grid/DG Statistics
Run hours, Solar Energy, Import/Export
Performances & Losses
CUF, INS, PR, TCPR, Losses
Reports
JMR, Customized, DGR, MGR, Auto Mail, (Excel & PDF)
Source Data
Grid, DG & Load Side Monitoring with Active Source
Notifications & Scheduling
Customized, PM & Panel Cleaning Schedules
CRM
Spares, Tickets, SLA, Activities Planning & Tracking